Wholesale Insulated Water Bottles in Bulk
Homii Bottles is a leading stainless steel water bottle manufacturer and can always offer you the best price.
What is a Travel Mug?
Travel mugs are drinkware made of metal and contain a screw-on lid and a handle, which may be attached or not. A travel mug can be described as a container to preserve hot beverages such as coffee, tea, chocolates, and other liquids such as hot water. They are used in various settings, including autos, boats, trains, and buses.
Since travel mugs are popularly linked to autos, the mugs also exist in shopping malls and can be used in conference meetings, sports events, and attractive sites. It is possible to keep the temperature of the beverages contained within travel mugs by using a screw-on lid. The lid also helps avoid spillage from the user's bumps and strides.
Travel mugs have gradually become popular due to several reasons. Among the reasons include hectic human lifestyles, which demand technology that can maintain the degree of hotness, and the general human nature for the love of warm beverages.
Coffee trails oil as the second most globally traded product internationally. Many people use travel mugs daily for convenience when traveling or moving around and using them in the office.
Portable mugs are gradually becoming common, compelling manufacturers to innovate new attractive designs for users. Among the most common innovative designs for the mugs are handle-free grip and double-insulated stainless steel portable mugs.
These are some of the travel mug varieties that one can find in different stores:
Insulated travel mugs
Insulated glass travel mugs
Personalized travel mugs
Customized travel
Plastic travel mugs
How are Travel Mugs Insulated?
Travel mugs use vacuum Insulation. During the construction of vacuum-insulated travel mugs, the air between the two walls is sucked out, creating a vacuum, just like the thermos flask, instead of a travel mug containing heating elements to keep the beverage hot.
The travel mugs have been designed to retain the temperature of the beverages at a certain level without allowing them to cool down.
Due to their non-porous nature, travel mug manufacturers rely on steel to produce stainless steel insulated travel mugs. Stainless steel-insulated mugs have maximum temperature retention. They also can keep beverages hot or cold for hours.
What Are The Types Of Travel Mugs?
Ceramic travel mugs are traditionally molded from clay. After molding the clay, it is put in a kiln or a giant oven until it hardens. At the end of the baking process, the material is strong enough to make kitchenware such as ceramic travel mugs and insulated ceramic travel mugs.
A metal travel coffee mug is usually made from stainless steel or aluminum. Metallic travel mugs are durable, lightweight, and durable. Since metal is a good conductor of heat, metallic mugs have a unique insulation material between their walls which helps beverage maintain their temperatures. Vacuum is the common insulation material used.
A double-walled container is another name used to refer to an insulated travel mug. The insulated travel mug has one wall on the outside and one on the inside. This implies that the insulated travel mug is considered thermal, whether vacuum-sealed or insulated. Plastic, stainless steel, or aluminum can be used as natural products for manufacturing insulated mugs.
The glass travel mug is made up of double-walled glass. The air between the inner and outer walls is sucked to create a vacuum. The vacuum prevents the glass travel mug from heating to keep beverages hot or cold.
The plastic travel mug is made up of plastic material. They are relatively cheap compared to other types of travel mugs. There has been an environmental concern about plastics, and many countries are trying to phase out plastic materials.
What Are Insulated Travel Mugs Made Of?
Four materials are used to make insulated travel mugs: glass, plastic, aluminum, and stainless steel.
What Is The Best Material For A Travel Mug?
The best material for a travel mug is stainless steel.
The following are the advantages of using stainless steel:
It is corrosion-resistant; this is one of the best-known characteristics of steel, made possible by adding chromium, which gives steel this quality. Corrosion resistance helps stainless steel against alkaline and acidic solutions.
Another quality of steel is that it is easy to clean; this makes it hygienic. Steel has a smooth and non-porous surface making it difficult for bacteria and other germs to establish themselves outside. Cleaning stainless steel makes it the best material for any travel mug. Stainless steel has an aesthetic appearance that makes it attractive and elegant material for travel mugs.
Steel is durable, and its maintenance cost is lower than glass and plastic.
Finally, stainless steel is eco-friendly and sustainable. Due to global warming and climate change, manufacturers have favored plastic because of its cheap cost, and it is being phased out for other sustainable materials like steel. Stainless steel is also 100% recyclable. Unlike other materials, stainless steel does not leach, meaning entering toxic elements to travel mugs is nearly impossible.
Which Is Better: Ceramic Or Stainless Steel Travel Mugs?
Stainless steel travel mugs are better than ceramic because of the following:
Despite ceramic travel mugs being substantially sturdy and weighty, they have two significant defects. The double layers in the Ceramic travel mugs wall make them heavy even though the walls are relatively thin.
Secondly, because of the delicate nature of the walls, most ceramic travel mugs are not designed with a handle since handles make them fragile and easily break.
Stainless steel is better than ceramic because of its high strength and durability. Stainless steel does not break easily even if it falls on the floor, which is not true with ceramic travel mugs.
Stainless Steel Vs. Insulated Glass Travel Mugs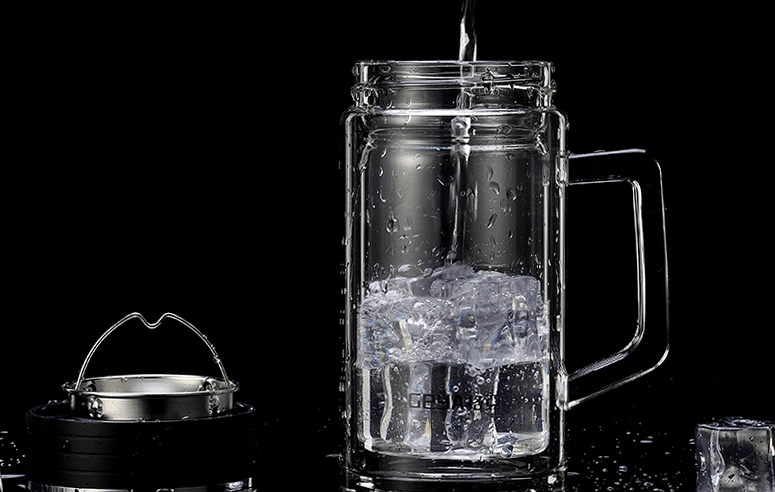 Stainless steel travel mugs have many advantages as compared to glass travel mugs.
Like thermos flasks, stainless steel travel mugs are efficient in temperature retention. They also give better insulation.
Additionally, stainless steel mugs perform better than glass travel mugs in durability and rigidity.
Although glass travel mugs are clean and elegant in design, the insulation of glass travel mugs is less efficient, and the weight ratio is not good compared to stainless steel. Stainless steel mugs can allow creative expression, making customization more manageable than glass travel mugs.
The stainless steel travel mug is the most incredible option because it is affordable, eco-friendly, customizable, and has excellent insulation.
| | |
| --- | --- |
| Stainless steel travel mug | Glass travel mug |
| Pros | Pros |
| Affordable | It has better insulation than plastic |
| Light in weight | Less likely to leach chemicals |
| It is dishwasher safe | It keeps temperatures longer because it is vacuum-sealed |
| Cons | Cons |
| It may retain odors that can affect the taste | Expensive than plastic |
| When mugs contain BPA, there is a risk of leaching | Heavy to carry |
How To Choose A Travel Mug?
The following are some factors to consider before buying a travel mug:
Capacity and size are fundamental factors to consider when choosing a travel mug. Travel mugs come in different sizes depending on the age group. The market has sizes for kids, teenagers, youth, and adults.
Temperature retention technology – travel mugs are good at initially retaining beverages at the correct temperatures. Some travel mugs in the market have been designed with innovative technology that helps in temperature retention, and these travel mugs can keep beverages warm for over five hours. It is good to choose travel mugs that have double-wall vacuum insulation.
Hygienic and Easy to clean – an ideal travel mug should not be hard to clean. The mugs should be hygienic and not susceptible to leaching, leading to toxic elements entering them. The travel mugs should be odorless before and after cleaning.
Eco-friendly – due to global warming that causes climate change. Environmental conservationists have raised concerns about manufacturers over certain materials and products that are not environment friendly such as glass. To curb global warming, one should consider buying eco-friendly travel mugs.
What Makes A Travel Mug Leak Proof?
The screw-on lid of travel mugs helps keep the contents of the travel mug leak-proof and the liquids' temperature within them consistent. The lid also helps avoid spillage from the user's bumps and strides.
Due to the lack of a vacuum-insulated lid that completely seals the mug's top. Even though the travel mug looks closed, it may leak liquid while in transit, which is highly inconvenient and dangerous.
Travel Mug With Print Advantages And Disadvantages.
Custom mug printing has been around for a long time, and many businesses have taken advantage of it to promote their products and services. Many prominent firms supply mugs with their logos or company names as part of their employee incentive programs. Despite developing advanced digital marketing techniques, this strategy is still widely practiced.
The following are the advantages of a travel mug with print advertising:
Advertising is one of the reasons for printing on a travel mug. Printing on a travel mug is a good market strategy. This helps an organization or an individual advertise any business helping boost the business's brand.
This will attract customers and expand the clientele base due to the products and services offered by the business.
Branding travel mugs is one of the cheapest advertisements compared to other ads.
Where To Buy Personalised Travel Mugs?
You can buy personalized travel mugs from Homii Bottles; you need to offer your mug design to us, then we will make a sample with your design and deliver it to you for confirmation.
You can also buy travel mugs from online stores like Amazon, Alibaba, and other local online stores. One can also shop for travel mugs in shopping malls and supermarkets.
Why Should You Be Using A Travel Mug All The Time?
Travel mugs transport hot beverages from one location to another while on the road. If you're constantly on the go and who move from one place to another like a gypsy, a travel mug will be a welcome addition to your travel accessories collection.
Suppose a person likes drinking hot chocolate, tea, and coffee. Whether in the office or traveling, a travel mug is a friendly companion. Nowadays, travel mugs range from plastic to stainless steel traveling mugs. Plastic travel mugs are the cheapest available option in the market.
Travel Mugs – The Ultimate FAQ Guide
Can You Put Travel Mugs In A Dishwasher?
The answer to this would be No. In general, not all travel mugs are dishwasher safe.
The reason is that dishwashers may interfere with the vacuum seal, which is responsible for the insulating properties of the mug. Another reason travel mugs are not dishwasher safe is the high heat from the dishwasher, which can potentially damage the vacuum seal.
When the vacuum seal gets damaged, then the insulating properties of the traveling mug are also lost. A damaged vacuum may also cause the travel mug to leak. Because of the delicate nature of travel mugs, washing them by hand every night is advisable.
Are our Stainless Steel Travel Mugs and Dishwashers Safe?
The answer to this would be yes. It is recommended to use dishwashers to clean the stainless steel travel mugs. But it is highly recommended that the travel mugs be washed by hand instead of a dishwasher.
When cleaning with a dishwasher, food particles, and other elements may be trapped inside. Experts say stainless steel travel mugs can be put in a dishwasher with few caveats.
The risk is that too much humidity and soapy cleansers cause corrosion on the steel metal. At the same time, acidity resulting from the beverages can tarnish the polish.
Can You Recycle Travel Mugs?
Some travel mugs can be recyclable, such as stainless steel mugs.
How Do You Stop A Travel Mug From Leaking?
A screw lid prevents beverages from spilling due to the user's bumps and strides. All travel mugs come with a lid to keep liquids from spilling out.
The two most common lid designs are a silicone lid that slips over the cup's rim, and a plastic lid that fits inside the rim and is usually sealed with silicone rings looped around the outside of the cup. It is possible to keep the temperature of the beverages contained within travel mugs.
Are Ceramic Travel Mugs Good?
Ceramic travel mugs are available in three varieties: porcelain, stoneware, and earthenware. Some customers prefer ceramics because they have non-metallic qualities and hardly react to anything.
Ceramic travel mugs retain more heat efficiently than glass travel mugs. Ceramic mugs can also be used in the microwave. This means that even if the beverage in the ceramic travel mug goes cold, it can always be warmed using a microwave. This is a property that is not seen in other mugs.
Ceramics are odorless, allowing consumers to switch between beverages without any worry. Although ceramic travel mugs are good, care should be taken when handling them because they are fragile when they fall.
Are Plastic Travel Mugs Safe?
Plastic travel mugs can be recyclable after their shelf life; this makes them safe for the environment. Plastic travel mugs are popular because they come in different shapes and sizes.
Plastic travel mugs are the most affordable among the other available travel mugs. The following are the pros and cons of travel mugs.
Pros
Durability- plastic travel mugs are reinforced plastic with high durability. This makes plastic travel mugs popular for heavy use and other sporting activities.
Inexpensive – Plastic travel mugs are affordable compared to others on the market. The pricing of travel plastic travel mugs has made them popular among many people.
Although, to some extent, plastic travel mugs are deemed to be safe, the following are some of the disadvantages.
Cons
Taste – just like stainless steel travel mugs, plastic travel mugs can change the flavor and taste of the beverage by absorbing certain microscopic elements, especially hot beverages.
Leaching – plastic mugs are prone to BPA leaching. BPA is used as a raw material for making some plastic products. BPA is carcinogenic and has been inextricably linked to cancer and other diseases.
This means the customer of a plastic travel bag must conduct proper research on the company and its manufacturing process and ensure the company doesn't use BPA. If the company uses BPA, then that plastic travel mug is unsafe.
Not- is eco-friendly, although plastic can be recycled. Some disposed of plastic is non-biodegradable and takes years because it can break down.
Why Do Travel Mugs Make Coffee Taste Bad?
Over time, plastic travel mug absorbs aromas and flavors from the environment. Pour coffee into a plastic cup at a halfway level and sip to observe how much it can absorb.
If you only sip coffee from your mug, the flavors absorbed by the plastic will not be as apparent as if you were drinking tea from the same mug rather than coffee.
What Are The Best Travel Mugs?
The best travel mugs are stainless steel because of the following.
Sustainability
Ecofriendly
Long-term value
High-impact resistance and strength
Aesthetic appearance
Hygiene
Heat and fire resistance
Corrosion resistance
Which Travel Mugs Stays Hot Longest?
Select the travel mug that can keep beverages such as hot chocolate, tea, and coffee throughout the morning and probably into the afternoon.
The stainless steel travel mug is ideal because it has the following desirable features; One stainless steel travel mug has a vacuum-insulation technology. This means the inner and outer walls have air between them sucked during manufacturing.
This means any hot beverage poured into the stainless steel travel mug doesn't lose to the external surrounding once it has been poured into the mug and sealed.
The second feature of a stainless steel travel mug is its airtight lid that prevents any steam from escaping to the external environment; this helps keep the beverages hot.