Wholesale Insulated Water Bottles in Bulk
Homii Bottles is a leading stainless steel water bottle manufacturer and can always offer you the best price.
Introduction
Yeti is a brand that makes high-quality mugs, cups, and water bottles. They're known for their long-lasting durability and ability to keep drinks cold or hot for a long time. This guide will tell you everything there is to know about these products and how they're made.
What is Yeti Cup?
The Yeti brand has been around for over 30 years, and it's no surprise that its products are so popular. They have a loyal following who love their products and the company's dedication to quality and customer service.
They're so committed to their customers that they offer a lifetime warranty on all their products.
One of the most popular items is the Yeti cup, made of stainless steel with an insulating vacuum-sealed liner inside. This combination makes it possible to keep drinks cold or hot for hours without adding ice or worrying about spills!
What are Yeti Cups Made Of?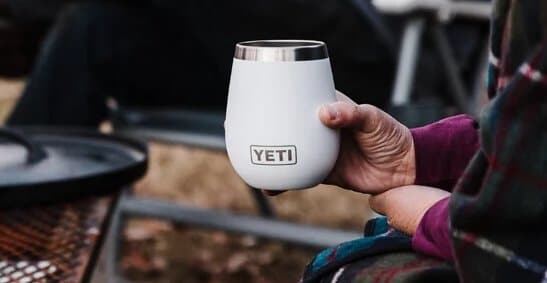 Two ways your Yeti can be manufactured are double-wall vacuum insulated and triple-wall vacuum insulated.
Both are incredibly strong, but with slightly different purposes depending on how hot or cold your beverage will be served at room temperature (RT).
The difference between them is how the walls are formed together to create an airless seal around the liquid portion of your drink container and prevent condensation from building up on the outside surface when not used for drinking purposes.
Let's divide the Yeti cup into three parts: body, cup lid, and seal gasket.
Yeti cup body: The Yeti cup body is made from 18/8 stainless steel( 18% chromium and 8% nickel), more commonly referred to as 304 stainless steel. This grade of stainless steel is corrosion- and rust-resistant, non-reactive with food and beverages, and highly resistant to discoloration and staining. This combination gives the cup its strength and durability and is microwave safe.
Yeti cup lid: The lid on your cup is made from Tritan plastic. It has shatterproof properties that make it strong enough for everyday use but still flexible enough to prevent cracking or breaking when dropped accidentally.
Seal gasket: there's the solid silicone seal gasket: this part keeps your drink from leaking out while drinking it, but it also protects your Yeti cup if you accidentally drop it in water or any other liquid.
Why are Yeti cups made of 18/8 stainless steel?
Stainless steel is an excellent choice for a cup you'll use daily. It's durable and easy to clean to last a long time (and save your family money on coffee shop runs). Stainless steel is strong, durable, and rust-resistant. It's great for outdoor use because it won't get damaged from water exposure like other materials.
Advantages of Yeti cups using 18/8 stainless steel
Here are some reasons why Yeti cups use 18/8 stainless steel:
Long lifetime lasting: stainless steel is built to last. The metal is extreme but doesn't rust or absorb smells like other materials would over time. If your yeti cup were made of plastic or porcelain, it wouldn't hold well over the years!
Safe for beverages: Stainless steel is safe for use in food-related products such as cups and bottles because it does not leach harmful chemicals into the liquid inside. This makes it ideal for holding hot drinks like coffee or tea and cold beverages like water or soda. There are no worries when using these cups because they are BPA-free and non-toxic.
Easy to clean: Stainless steel is a good material for your tumbler because it's easy to clean, so you can use it for hot or cold drinks. It's also resistant to rust and chipping, so your drink will stay in one piece even though you'll be using it daily.
Poor conductor of heat: Another benefit of stainless steel is that it's a poor conductor of heat—which means if you want to keep your drink warm or cool inside the tumbler, the walls won't directly transfer any of that heat out into the surrounding air (or vice versa). Because of the way that heat moves through this material, it keeps your drinks cold longer than any other kind of material would (making them better insulated)
Durable and can hold a vacuum seal: Stainless steel is the ideal material for yeti cups because it's durable and can maintain a vacuum seal. This means that no matter how hot your drink gets, you'll be able to keep your lid on without worrying about it popping off.
You can also plate these cups with copper to block out radiation heat: Another reason why stainless steel works so well because copper can be plated onto its surface so that radiation heat doesn't pass through while also keeping bacteria from getting in through cracks or crevices. This makes sure nothing wrong happens while still enjoying the great taste!
Stainless Steel Is Rust Resistant: Stainless steel is a highly durable metal that doesn't rust. It also has a smooth surface, which helps keep drinks cold for longer. This means you can enjoy your drink without worrying about warming or being watered.
What are the disadvantages of 18/8 stainless steel?
Stainless steel isn't very flexible or malleable—if you're looking for something that can easily bend or break (like plastic), then stainless steel isn't the suitable material for your needs.
Stainless steel is weighty; it weighs more than aluminum cans by about 40%.
Yeti cups Manufacturing Process
The secret behind the durability of the yeti cup is not simply its construction but also how it's manufactured. Some water bottle manufacturers use cold forging to create their tumblers, while others employ hot forging.
Cold forging allows for an even distribution of stress during the creation process, resulting in far less distortion than hot forging, which can lead to flaws in your tumbler after repeated use or washing.
However, the manufacturing process of Yeti cups is enjoyable, so let's take a closer look at it.
Create a stainless steel tube: To begin the manufacturing process, you will need to create a stainless steel tube. The size of this tube will depend on how many cups you want to make at once. If you make one cup and want to use an electric drill, then a 1/2" diameter steel tube works well.
Cutting stainless steel tube into the proper length: The next step is cutting your metal into the appropriate size using a hacksaw or grinder. Once this is done, it's time for tubing bending tools! These tools allow for precision bends so that your final product has an excellent shape and isn't too difficult to handle when filled with liquid (or other condiments).
Shape forming: The cup bodies are first shaped by spinning and pressed in the dies and then flow formed into their final shape.
Mouth forming with threads: After body shaping, the cup mouths are created with a set of lines welded to form three rings (inside, middle, and outside). These rings act as a structural element for the cup design and help prevent stress cracks from occurring during use.
Matching and welding tumbler mouth: Machining machines have been developed for this purpose that allows for precise matching between two different parts (the cup body and tumbler mouth) before they are welded together by lasers or ultrasonic waves
Welding tumbler bottom: First, the cups are made with a welding tumbler bottom. The mug is heated and pressed against a rotating metal disc that melts it. This process fills any defects in the cup.
Vacuum process: A vacuum press removes any remaining gases within the cup and makes it denser. The inner and outer walls of the cup meld together during this phase, which creates a strong bond between them.
Polishing: Then polishing begins with grit blasting or sandblasting to smooth out rough spots on both sides of an unfilled Yeti Cup lid or mug body (depending on what you're making) and remove scratches caused during manufacturing processes like welding tumbler bottoms, which gives them their shiny look.
Powder coating: The process of applying a layer of paint to the surface of an object. This can be done by various methods, including brushing, rolling, and spraying. Powder coating involves drying the painted thing in an oven at high temperatures until it is dry and hard.
Laser engraving logo: The act or process of creating a mark on an object or surface using a laser beam. Yeti cup gets laser engraved with a logo or design that you choose—perhaps something like an image or word.
Assemble caps: Assembling the cap on the cup is a simple process that requires little training and can be done in a factory or warehouse with minimal equipment. Caps for lids are attached to the tops of cups after being individually inspected for quality control purposes (wink). Then all parts are packed into boxes and shipped to waiting customers around America!
Packing: Once the cups have been assembled, they need to be packed for shipment. This step involves putting an adequate amount of packing material around each cup so that it doesn't move around during transit or get damaged by other objects inside the shipping container.
Also, you can check this video to learn the manufacturing process of Yeti cups:
The manufacturing process of Yeti cups
How Do Yeti cups Work To Keep Beverages Cold/Hot?
The secret to the Yeti cup's insulating ability is the vacuum seal. This isn't a new technology, but it deserves a closer look. How does it work?
The stainless steel walls of the Yeti cup are vacuum sealed. The lid, designed to create a perfect seal with your chosen beverage, starts this effect by reducing air pressure inside the bottle and sucking out any remaining pockets (or "air bubbles") within its structure when you press down on it while filling up your drink.
This means there's no room for cold or hot air to enter your beverage after you've closed off access via cap and screw top closure systems found in other cups.
Because there's no room for these gases to come in contact with liquid-filled surfaces, such as ice cubes or lukewarm coffee grounds (which would cause them to melt), freezing temperatures can last longer than those found in regular containers made from plastic materials like PETE (#1).
While this may seem insignificant compared to our other reasons why we love yetis so much, consider how many times per day someone might accidentally spill their glass of water across surfaces like desks while working at home or in office buildings where they work each day before realizing how much wasted paper towel costs add up over time due.
Why Are Yeti cups Durable?
Stainless steel is a good choice if you want something durable and rust-resistant. It's also usually BPA-free, so it's great for people concerned about chemicals leaching into their hot drinks. But what makes stainless steel so durable?
The main reason is that 18% chromium and 8% nickel are key to the durability of stainless steel. These two elements form an outer layer on the metal that protects it from corrosion (rusting), which means that your cups will last longer than those made of other materials.
If you don't know what type of material your cup is made from, check the bottom or side; there should be labeling that says whether it's stainless steel or not—and if it isn't, then maybe consider getting another one!
Can The Quality Of Yeti cups Be Surpassed?
While not all yeti cups are the same, they usually share common traits. The best yeti cups are made from 18/8 stainless steel and are 100% BPA-free. These two factors make them indestructible and safe for your health.
By looking at its price tag, you can tell that a cup is made from 18/8 stainless steel; if it's over $20 for a 10-ounce tumbler or lid, it most likely isn't 100% BPA-free (which is essential).
Why are Yeti cups so expensive?
Yeti cups are expensive, but not because they're gold or diamonds.
The Yeti brand makes high-quality, durable products in the USA. Yeti cups are tough and can withstand various conditions outdoors—from freezing temperatures to being dropped on concrete.
The 18/8 stainless steel used to make these cups is more expensive than other materials, such as plastic and aluminum, because of its strength and durability (18/8 represents 18% chromium and 8% nickel).
Who manufactures yeti cups?
So, who makes Yeti cups? The answer is a bit complicated, but it's also pretty simple. To begin with: YETI cups are made by the same company that makes Yeti coolers.
This company is called Yeti Coolers Inc., which—you guessed it!—makes both coolers and cups. They're headquartered in Austin, Texas, and their manufacturing operations are based there, too (not all of them; some products are made in China).
However, not every cup manufacturer makes their products at home. Some companies outsource production to other manufacturers or hire factories in countries where labor costs are lower than in the United States. These practices save these companies money (which they can then pass on to their customers).
Still, they also make it harder for us consumers to find exactly who makes our favorite things—and whether or not those people are being treated well by their employers.
What is the coating on yeti cups?
There are several different types of coatings on stainless steel cups. Some coatings, like the stain-resistant coating found on the Yeti Rambler Containers, are easier to clean and longer lasting than others.
Some coatings resist stains better than others but may also be harder to clean. If your cup is made of stainless steel and has a coating that resists scratches and dents well, then it should last you for years with minimal maintenance.
If your cup has a matte finish instead of a glossy one (like this), it will look more "rugged" but also be more accessible to scratch or dent if you're not careful with it!
Are yeti cups indestructible?
You may have heard the rumor that Yeti cups are indestructible. They aren't, but they're pretty darn close. Yeti cups are made of 18/8 stainless steel, which is a good choice for a durable and rust-resistant cup.
You can damage a Yeti cup by dropping it on a rigid surface or running it through the dishwasher while hot (which would ruin your other dishes, too).
Conclusion
If you are looking for your next camping or hiking cup, then Yeti cups are a great option. The stainless steel construction is durable and rust-free, while the double-wall insulation keeps drinks cold longer than most other brands on the market today.
If you are unsure which Yeti cup is right for you, check out this article which goes over all their different sizes, including big gulps!
Also, if you want to customise some insulated stainless steel cups that have the same quality as Yeti cups, don't hesitate to get in touch with Homii Bottles.