Wholesale Insulated Water Bottles in Bulk
Homii Bottles is a leading stainless steel water bottle manufacturer and can always offer you the best price.
Introduction
Packaging your meals is one of the best ways to ensure that you and your family eat healthily. However, taking something like a sandwich or soup with you can be challenging if it's not properly insulated.
The insulated food jar is a great addition to any kitchen. It keeps your food warm, which makes it perfect for lunches or snacks on the go. This post will show you how to use an insulated food jar efficiently.
Why need an insulated food jar?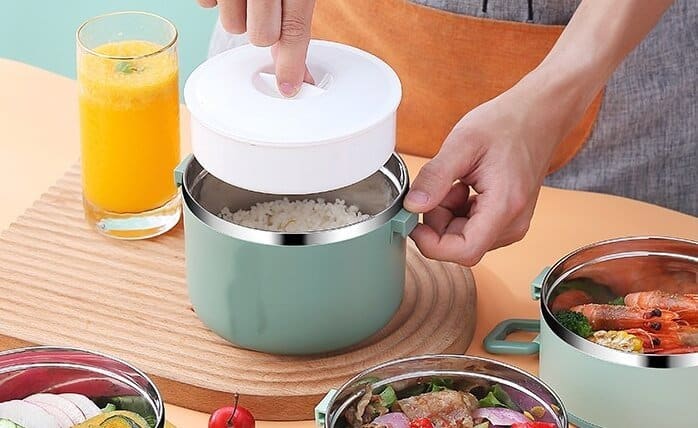 Why need an insulated food jar?
Food jars are great for picnics, camping, or hiking. They make it easier to bring your food with you. It's also convenient if you want to take a meal on the go without worrying about how long your hot dishes will stay warm or cold.
Insulated food jars can keep food warm or cold for a long time! They are much more economical than disposable containers and avoid making trash afterward.
Insulated Food Jars are easy to use – add water, put your favorite snacks in the jar, and enjoy!
Insulated Food Jars are available in various sizes, colors, and styles. They are much more economical than disposable containers and avoid making trash afterward.
Insulated Food Jars can also be used while traveling, whether you are going on a plane or driving to work. It also has an easy-to-use locking mechanism so that there is no spillage inside the car during travel.
Preparation of your Insulated Food Jar
Before you start packing, there are a few things to consider:
Make sure you have the correct jar. You'll want to use an appropriately sized jar that is neither too large nor too small for your food. A good rule of thumb is to fill it only 80% full, so air can flow around the contents in the jar when being packaged.
Make sure your jar is the right size for the job. The lid should be large enough for the vacuum seal but small enough not to be too inconvenient when eating your soup or another cold treat. If you're making a meal that requires two portions, consider getting two jars and two lids so they can each have their seal.
Make sure you have a suitable lid for your insulated food container! Otherwise, neither will work as intended! A good rule of thumb: if the same brand manufactures it, there shouldn't be any problems. Some lids come with multiple parts—like a glass or plastic piece and an aluminum seal—that must be assembled before they can be used on your jar.
Choose a vacuum sealer that suits how much space inside each package needs to be filled with air pressure (so none escapes) and how much air pressure is required throughout all containers being sealed together!
Prepare the food. If you're making soup, this means making it and then portioning some into each jar. If your meal requires two portions of anything else (say rice), put one serving in each bucket – but only if both lids fit over them.
What food should you pack in an insulated food jar?
Now that you have a food jar, what should you pack? Ideally, the food should be:
Not too liquid, and it will be easy to pack. Put a small glass of water or ice cubes in the jar and put your lunch there.
Not too sticky, and it will be easy to pack as well. You can place them inside the jar and close the lid tightly so that they won't leak out when you shake it up or down while eating them later at work during lunch hour!
Not too greasy, this would also mean that they'll stay fresh throughout the day without becoming soggy after several hours of being left outside under the hot sun without any ventilation.
Not too acidic. Foods like tomatoes and citrus fruits are acidic, which can cause corrosion to the metal of your food jar.
Not too salty. The same goes for salty foods like chips or pickles, which could also corrode the metal of your meal jar if not stored properly and carefully handled every time they are opened at home or taken out on the go.
Not too sweet/sour/spicy. Sweet sauces like BBQ sauce may cause damage to the interior coating of your insulated food jar since they tend to stick too much on any surface they land on inside your meal container during storage. Likewise, spicy foods like hot sauce should never be placed into an insulated container without adequate protection against contact with its sides and lid!
How to properly use an insulated food jar?
As you can see, there are several situations where a food jar will come in handy. But how do you know which one to use for each situation?
The answer is simple: follow these four easy steps:
Is the food hot or cold? If it's hot, use the insulated food jar with a vacuum lid; if it's cold, use an uninsulated one.
Is your meal ready to eat? If so, put it in the insulated food jar with a vacuum lid! This way, it'll stay warm until lunchtime (or later). If your meal still needs heating up or cooling down before being ready to eat, stick with an uninsulated version instead.
What kind of container do you want? Do you want something big enough for leftovers? Or maybe something portable won't break easily when dropped accidentally while taking your girlfriend out on her birthday dinner date tonight!
If you want to keep your food hot or cold for long periods, choose a thermos explicitly designed for this purpose. These insulated bottles keep liquids hot or cold for hours—even overnight!
If you plan on taking your lunch on an outdoor adventure, invest in a high-quality thermos with sturdy construction and easy cleaning capabilities. You'll need one that's leakproof and insulated to prevent heat loss even if it falls into the water.
How to pack cold food in your insulated food jar?
Here are some tips on how to pack cold food in your insulated food jar:
Place your food in the container.
Screw on the lid tightly, ensuring that it's not leaking and that there is no air. If necessary, add a layer of plastic wrap around the top of your container to help keep out any accidental leaks.
Put your food jar in the freezer. You should leave it there for at least two hours before using it. This will ensure that all its contents are frozen as they should be, and there won't be any leaks when you turn on the lid later.
Ensure the lid is on tightly before removing it from the freezer (it should have sealed itself shut) so no water gets inside while thawing out when opened again later down the road!
Check if any signs of liquid forming at top edges where heat escaping through cracks could cause condensation build-up around edges when opening up after months/years of storage time pass unnoticed.
How to pack hot food in your thermos or insulated food jar?
Packing hot food in your thermos or insulated food jar is not difficult. It would help if you kept in mind a few factors:
Use a heat-resistant spoon or fork. Stainless steel spoons and forks are great for serving cold foods, but when it comes to hot ones, you should use silicone or plastic ones instead because they can be easily cleaned after usage.
Use a heat-resistant container that can be safely put inside the jar without causing any damage to either the lid or the container itself (for example, glass jars).
Use an oven mitt whenever you bring out hot food from any jar, so your hands don't get burnt while handling them with bare hands!
With these considerations in mind, you are now equipped with everything needed to learn how to pack hot food in your thermos or insulated food jar!
Should you pre-warm(or pre-cool) your insulated food jar?
When warming up your food jar, the best way to do it is by preheating the oven to 350°F (175°C) and placing it inside. The heating and cooling process should take about 10 minutes. Preheating is unnecessary but can help you retain more heat if you are in a hurry.
Some foods don't require pre-warming:
Cold water or yogurt
Hot soup and stew (you can put them directly into a hot food jar)
Suppose you're using a hot food or beverage like soup or tea. In that case, it's recommended that you start with warm water rather than hot water because otherwise, the cold temperature of the drink will affect how quickly it warms up over time – which means less tasty results!
How long can food last in an insulated food jar?
How long food can last in an insulated food jar depends on the type of food and temperature. Generally, the cooler the temperature you store your food, the longer it will last. For example, a cold pack can keep your lunchbox cool while traveling through hot weather.
The answer to this question depends on a few things.
First, you must know what food is in your insulated food jar. If the food were frozen in the jar, it'd last longer than if it were room temperature (or even worse: lukewarm).
Second, you need to know how long you want that particular type of food to last. Some people have no qualms about eating a soggy sandwich after only three days—others expect their lunchtime leftovers to last for weeks on end!
Finally—and arguably most importantly—you need to consider the temperature at which your insulated food jar is stored (if anywhere). An insulated container will keep heat from the outside and cold from the inside better than regular plastic or cardboard packaging.
How do I get the maximum heat retention from my insulated food jar?
If you want to get the maximum heat retention from your insulated food jar, follow these guidelines:
Keep the jar upright. If you place it sideways or upside-down, more of the surface area will be exposed to air. That lets cool air in and reduces how much warm air stays inside.
Keep it closed! Air can only escape through a small opening at the top of your jar, so if this opening is blocked by something like a spoon or fork, there's no way for fresh air to get in and dilute some of that delicious warmth!
Don't pack too full when prepping your meal—fill just enough space so there isn't an empty pocket where cold air can sneak in between chunks of food as they expand with heat. And don't overfill either—if you're using some liquid like soup or stew, it'll expand with heat too!
Please keep it away from direct sunlight. For example, when biking or hiking during the day, ensure your jar is stowed in a bag or pocket hidden from the sun.
How to use vacuum-insulated stainless steel food jars for cooking?
Put your food jar inside the pot, then fill it with water.
Leave your food jar in this water for 30 minutes to let it heat up and cook thoroughly, stirring once or twice so that it cooks evenly throughout its contents.
When you take out the vacuum-insulated food jar from the oven, put a damp cloth or kitchen towel over its mouth and turn it over gently to open it up slowly so as not to let hot air escape when you open the latch on top of your vacuum insulated stainless steel food jar;
Remove from heat immediately when done cooking and place back into its original packaging until ready for consumption (if not microwaving).
How do I test whether my food jar's insulation is faulty?
To test whether your food jar's insulation is faulty, place a thermometer in the food jar and fill it with water. Afterward, place the food jar in a pot of boiling water.
Check the temperature of the water in the food jar after 10 minutes. If it's still above 80°C, your food jar has an excellent insulating layer around it, so you're good to go!
What actions will reduce the effectiveness of the insulation?
Your insulated food jar can withstand a lot, but there are some things you should avoid doing. These include:
Don't expose the jar to direct sunlight. The insulation will be much less effective if it gets wet or overheated.
Don't expose the jar to high temperatures. This could lead to condensation inside your jar, which could get absorbed into your food, making it unsafe for consumption or creating other contamination-related problems.
Don't expose the jar to high humidity and pressure changes (such as when flying). While most airplanes have pressurized cabins and carry-on luggage is generally safe from extreme changes in temperature during flight, there's still a chance that these conditions could cause damage.
Avoid impact as well; jarring movements could chip off pieces of paint, covering insulating layers underneath glass surfaces like those found within plastic bottles filled with olive oil sold at stores all around town today!
Don't expose the jar to sharp objects. Sharp objects can puncture or otherwise damage the insulation of your thermos, making it less effective at keeping your food warm or cold for a more extended period.
Don't forget that some foods require special handling. For example, if you're storing hot soup or drinks inside your insulated food container, keep them separate from other things like ice packs. This will help prevent condensation from forming on either side of your container and ruining its insulation capabilities!
What should I not do with my Food Jar?
There are a few things you should not do with your food jar:
Be careful when Microwaving it. The plastic lid might melt and cause the food to leak from the container when you open it.
Be careful when putting it in the dishwasher. Doing so can damage both your lid and your jar, making them unusable for cooking or later eating.
Be careful When Cooking on the stovetop with it—the same goes here as with microwaving, but with an added risk that if you accidentally burn yourself while using it on a burner, then there will be no way to remove any residual heat from inside your food jar before consuming its contents!
Avoid using the food jar in an oven. This is because there are no vents built into your lid for ventilation, which means that any hot gases produced by your dish could build up inside your food jar and cause it to explode when opened.
How to heat baby food in a jar?
To warm baby food in a baby food jar, follow these steps:
Add hot water to the jar. For example, if your baby needs 1 oz of warmed food, add about 2 oz of hot water to the jar.
Shake the jar to mix the hot water and the food. You can also use a clean fork or spoon if you don't have enough room for a lid on top of everything after adding your hot water; this will help stir it faster and ensure that all ingredients are evenly distributed.
Allow any remaining cold spots in your mixture to warm up before sealing off your jar with its lid or cap and placing it into a safe container for storage until later (such as when feeding time comes around).
What should I do when I have trouble opening my Food Jar?
If you've tried to open your Food Jar, but it's not working, don't worry! There are lots of different ways to get it open.
Here are some tips for getting your lid off:
Use a plastic knife to pry the lid open gently. We recommend using a plastic knife that is not serrated. This will avoid damaging the underside of your cap so that it fits back on quickly once you've opened it.
Use a rubber mallet; we suggest tapping on both sides of the food jar with this tool (not hammering down on top of it). This should loosen up any stuck lids or stubborn tops!
Use a hair dryer on high heat for about 5 minutes (this will soften the seal).
If all else fails, try using a small hammer instead—you may need several taps before anything happens, so don't give up too soon!
Finally…if none of these methods work for opening your Food Jar after several attempts at trying them out yourself… there's only one thing left: call us so we can send someone over right away!
How can I get rid of the rubber smell from the silicone parts?
You can wash the silicone parts with hot water and soap. Then rinse them in hot water, dry them, and let them air dry.
If you want to remove odors from the silicone parts, use baking soda and vinegar. The baking soda will absorb any smells left on the silicone, while the vinegar will help remove any stains or residue that may have been left behind.
How should I clean my insulated stainless steel food jar?
When you're finished eating, cleaning your food jar is essential. The easiest way to do this is with warm water and mild soap – rinse thoroughly, then dry the inside and outside of your container.
Do not use abrasive cleaners or steel wool, which can damage your container.
We advise against putting your container in the dishwasher or using bleach or a microwave oven, as these will cause damage over time.
How to sanitize a stainless steel food jar?
Sanitize your stainless steel food jar by following these steps:
Fill a large bowl with one teaspoon of bleach per 1 liter of water.
Soak the food jar in the sanitizing solution for at least 20 minutes, then rinse thoroughly with clean water and air dry. It would help if you also washed the lid too.
Please do not put this item into the dishwasher because it has rubber seals that won't survive being washed that way!
How to remove stains from your insulated food jar?
So, your insulated food jar has developed stains. Don't panic! It happens to the best of us. Here are some ways you can remove them:
Rinse well with warm water (this will help remove any stubborn stains).
Use a sponge or soft cloth to wipe away any crusted food particles and dirt from your food jar lid and body. Be gentle, though—you don't want to scratch off any paint or cause damage to your insulated food jar by pushing too hard on it.
Finally, rinse again under warm water and dry with a dishcloth until completely dry (if you let it air dry in an open space out of direct sunlight).
Avoid using abrasive cleaners, bleach, or other harsh chemicals for cleaning this product, as these can damage its surface finish and graphics over time.
Can I place my Food Jar in a sterilizer?
You can place your Food Jar in a sterilizer but clean it thoroughly before you do so. We recommend giving it a quick rinse with hot water and dish soap, followed by an alcohol wipe.
We also recommend placing the base of the jar on a flat surface within the sterilizer so that it doesn't tip over during its cycle.
Also, ensure not to overfill with jars; this will prevent them from getting enough heat from the steam generated during sterilization cycles and could damage them permanently.
Too long in hot conditions can also cause damage, so do not leave your food jar inside longer than necessary!
Conclusion
In conclusion, the most important thing to remember when using an insulated food jar is that the longer you keep it in a hot environment, the more heat it will retain. The same applies to cold climates: if you want to keep something cold for as long as possible, ensure it doesn't get too hot from fridge to table!
However, if you have any more problems with insulated food jars or want customized stainless steel insulated food jays, please get in touch with Homii Bottles at any time.